I was recently chatting with a food blogger client when we veered off the topic of her logo design and somehow got on the topic of Pinterest. We were talking about all the changes that Pinterest has gone through over the years and she expressed frustration that she wished she could tell what people were actually pinning directly from her site. She had always pinned her own images to her boards to drive traffic, but she wanted to see what posts her READERS were pinning directly from her food blog. That's when I told her of the EASIEST trick that would solve all her problems. Many of you may already know this trick but for those who don't, here's what you do!
Simply type the below URL into your browser and add your own website name to the end:
https://www.pinterest.com/source/YOURWEBSITENAME.com
Don't use the "www." just your main site name with ".com" at the end. For example:
https://www.pinterest.com/source/designeatrepeat.com
It will bring up a page showing you exactly what's being pinned from your blog plus the re-pin statistics.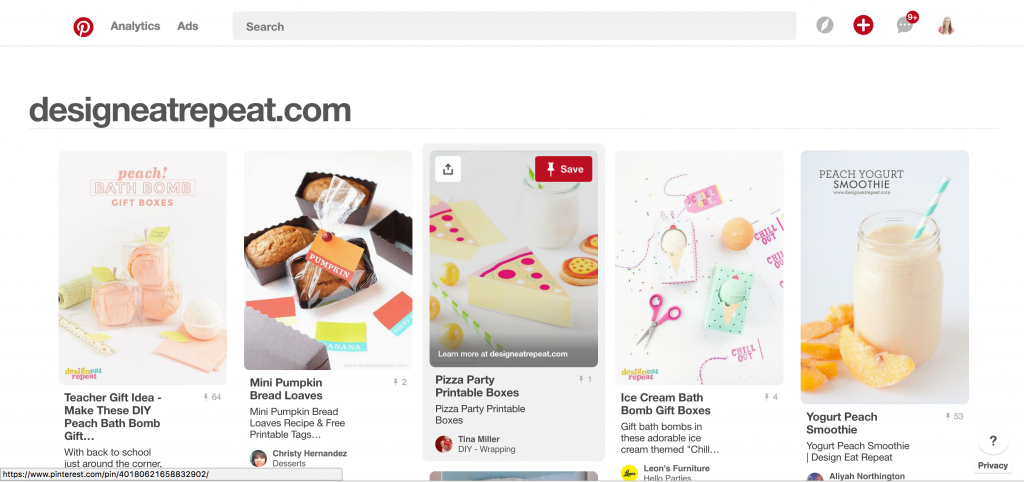 Literally the easiest thing ever and a helpful tool to determine what's doing well and what type of content you should focus your time on later on.
[line]
CRAVING MORE EXCLUSIVE BLOGGING TUTORIALS AND TRICKS?
If you're a Food or DIY blogger wanting to learn how to beautifully brand your blog with confidence, come join me and over a hundred other bloggers in my FREE private Facebook group!